Introducing Lake Glenbawn.
During the Term 3 School Holidays, 22 athletes in the NSW/ACT Emerging Talent and U23 Squad came together for a pre-season camp at Reflections Lake Glenbawn.
Located just two hours west of Newcastle, and 15 minutes from Scone, Reflections Lake Glenbawn truly is a hidden gem.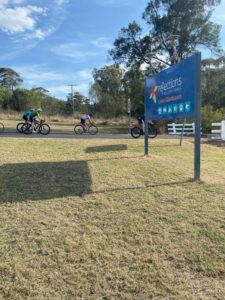 Sitting in picturesque Upper Hunter country, Lake Glenbawn State Park is an oasis of rolling green hills, pristine water, and an abundance of native Australian wildlife, making it the ultimate spot for an Aussie getaway.
And with kilometres of safe and undulating quiet rural roads of the Upper Hunter Region, it boasts some of the state's best long rides, allowing clubs to roll in pacelines and safely in bunches.
Reflections Lake Glenbawn also offers top quality open water swimming just a stroll down the hill, providing race simulation opportunities and lots of practice of deep water starts and wetsuit swimming.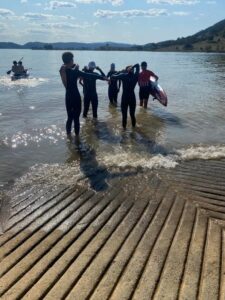 And did we mention thousands of running trails to turn those legs over, making this the ideal location for the ultimate club training camp getaway.
Whether you're a fan of your creature comforts, love roughing it, or sit anywhere in-between, a stay at Reflections Lake Glenbawn offers it all. Triathletes can take their pick from one of the park's cabins, with million-dollar views over the stunning Lake Glenbawn.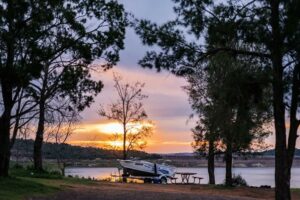 There might be plenty to keep you active at Lake Glenbawn but we suggest taking some time to enjoy the view. Whether it be to watch the sunrise, sunset, or just some time in the middle of the day, there's no debating that the view (from wherever you might be standing) is something special.
Pick up some goodies from Hunter Belle Cheese and Pukara Estate on your way out to the park and prepare a glorious grazing board or fire up the BBQ and get cooking before catching sight of the beautiful night sky and settling in for the night.
Scone offers a wide variety of great restaurants and cafes, ideal for the club to eat, drink and enjoy everything you could need or want for a perfect trip to country NSW.
For those who want to travel with their family, there is an onsite large outdoor pool situated at the front of the park. Whether you need a kid's playground, BBQ, a boat ramp, swimming pool, laundry, or even a tennis court; Reflections Lake Glenbawn has it covered.
We suggest you make the effort to get up for at least one sunrise because it's well worth the early morning alarm. Sit and watch the world wake up around you as the kangaroos jump on through the campsite, the birds chirp and the sun make its way into the day.
During the Term 3 School Holidays, 22 athletes in the NSW/ACT Emerging Talent and U23 Squad came together for a pre-season camp at Reflections Lake Glenbawn. Superb feedback was received from all who attended, but don't take our word for it.
Reflections Lake Glenbawn is just one of many Reflections gems that we want our NSW Affiliated Club network to explore and consider using for accommodation when travelling as a club to a race or for a mid-season training camp.
 With 37 parks around NSW, you are sure to find a venue that works for you and your triathlon community. 
Check out all their park locations HERE
To add an extra dash of excitement, the first New South Wales Affiliated Club that makes a reservation for either a race or a training camp at any of the 37 Reflections Holiday Parks will enjoy a HUGE $500 discount* off their group booking!
*T&Cs Apply and these will be emailed directly to clubs so they are across the details.