With a range of benefits including motivation, driving Individual and economic health benefits and supporting the community with diversity, equity, and inclusion outcomes, local tri clubs are shaping the future of the sport.
Whilst COVID changed a lot, many people rediscovered the importance of community more than ever. People crave social opportunities, weekends away with friends (new and old) and to share their passion and knowledge with others.

Like all sports, there was drop in membership and participation numbers during the pandemic. But the rebound has been strong. NSW Triathlon Clubs, Memberships and Partnerships Manager Tom Bonnafoux advises that there has been a 15% increase in triathlon club memberships, with youth participation and females making up the large portion of new participants and members.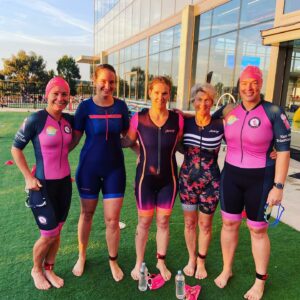 Here are FOUR ways that triathlon clubs are shaping the future of the sport.
1. Individual and economic health

Research has shown overall health is one of the leading factors behind triathlon participation.

'Health and wellbeing' outcomes motivate people to seek out Tri clubs. People want to stay healthier and fitter longer, reduce the risk of cardiac arrest and stave off the issues of old age. The old saying of 'use it or lose it' rings truer in 2023 then ever before.
Triathlon clubs also support their local economies. Most clubs have great local partnerships, sponsors and deals with local businesses including their local cafes, local physio and other health providers. There is a real 'strength in numbers' benefit here. An individual triathlete is unlikely to get discounts and better deals with local businesses, but a club with a whole membership can gain access to exclusive benefits utilising the strength of numbers. It's win-win for local businesses and athletes.
2. Motivation
Triathlon clubs are motivators of the best kind. Don't feel like waking up for a run this morning?  Having replied 'Yes' on a club 'whatsapp' page will be the extra driving force to avoid hitting that snooze alarm! Just have a look at 'Club Tent Alley' at any local commercial events and all those happy athletes in their club kit racing, cheering and supporting. However, many club members are motivated by doing their local and cost-effective local races as well!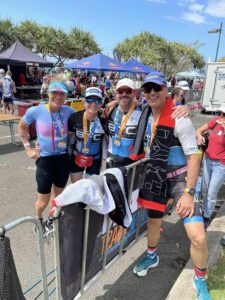 The president of the newly created Sydney South West Triathlon Club, when asked why the sport was important to him, couldn't contain his excitement.

"The lifestyle, being committed, feeling that anything is possible. Triathlon has completely changed my life. It has given me a completely new mindset; I can face any challenge head on and now I feel like I can win. And it's just so much fun, so healthy and so good. I knew I had to share this with my mates and my community. The training was so boring and lonely by myself! Sessions were dull!! I lacked motivation and camaraderie with a local tri club"
3. Diversity, equity, and inclusion
There has been a strong surge in clubs being created that directly support our goal of increasing diversity, equity, and inclusion.
When members of the Filipino community felt they needed a club that represented their community, they created the FilOz Triathlon Club. It was the same for the Australian Chinese Triathlon Club, who felt passionately that their community needed a safe and inviting space for newbies to join. And similarly with the TriMob – Australia's first Triathlon Club created by First Nations People for all. Most recently, Ahmed Egiz, created Sydney South West Triathlon Club, driven by removing barriers for the Muslim community around where he lives.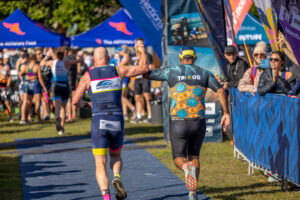 4. Increased competition (and friendship)
Triathlon clubs facilitate healthy rivalries between athletes and teams, which ultimately leads to increased competition in the field. 
There are a number of opportunities Triathlon Clubs in NSW compete against each other in fierce but always friendly and healthy rivalries, banding together to work towards a common goal. The NSW Interclub and the NSW Club Championships are great examples of this.
Clubs like Jervis Bay Dolphins and Brighton Polar Baths (just to name a few) have built their club around their local Interclub Leagues. It has galvanised their community and motivated members to race more.
"Our club is strong because we have a great leadership team, and a bunch of experienced athletes who love encouraging and nurturing others. We are also a very competitive bunch and thrive in healthy competition" – Rod Rose, Jervis Bay Triathlon Club
And that sentiment perhaps captures the biggest value of triathlon clubs: lasting friendships from a true community.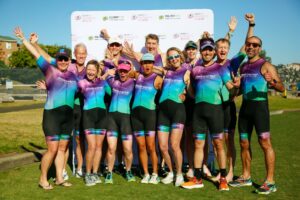 To find your nearest local club in NSW check out: Find a Club (triathlon.org.au)